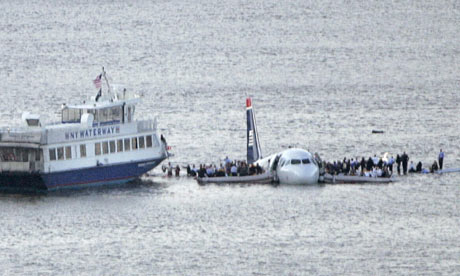 Yes, a divine miracle from God on High.
Captain Chesley B. "Sully" Sullenberger : 
• Since 2007, he has run a safety consulting firm, Safety Reliability Methods, Inc., in addition to flying commercial aircraft
• Has been a US Airways pilot since 1980
• Served nearly seven years as an Air Force fighter pilot, attaining the rank of captain
• Served as a flight instructor, Air Line Pilots Association safety chairman, accident investigator and national technical committee member
• Has investigated aviation accidents for the Air Force and National Transportation Safety Board; helped developed new protocols for airline safety
• Recipient of a 1973 bachelor's degree from the Air Force Academy, where he majored in psychology and basic sciences and accrued an array of academic awards
• Has two master's degrees, one in industrial psychology from Purdue University (1973) and one in public administration from the University of Northern Colorado (1979)
• Recently named a visiting scholar at the University of California at Berkeley's Center for Catastrophic Risk Management
Sully just tossed his hands up in the air and let the lord land the plane in the middle of the Hudson River. The well trained Crew just sat and hoped for the best. I have
NOTHING
against Miracles , and as a matter of fact, believe in them , whole heatedly. BUT, to simply say " it was a miracle" diminishes the HUGE talent that these brave people have and used.